Services

Stedvolt provide service for servo voltage stabilizers, both single and three phase, constant voltage transformer(c.v.t) , isolation transformers, convertors, invertors, online UPS, offline UPS, Batteries (tubular and smf batteries) and all type of custom built power solutions.
On Site Services: We are Authorized Service Providers to APC for Karnataka whose TAT has been constantly maintained at 100% with minimal or zero NPF of the units and good KPA score for good customer feedbacks. Our in-house staff comprise of office coordinators who communicate with our customers for after-sales Service which is given a high priority in our organization. Our technical team is well-trained in trouble shooting the issues pertaining to the UPS, inverters of higher and lower capacities. On-Site service methodology is being practiced wherein the customer is given a copy of the service report. The customer's feedback is given due importance and sent to the APC authorities directly for their perusal based on which the ASP is awarded with the KPA scores. In-house and On-site service unit is also available for stabilizers, both single and three phase; CVTs; isolation transformers, batteries and so on. We also serve all custom-built power related equipments.
APC Authorised Service Partner Certificate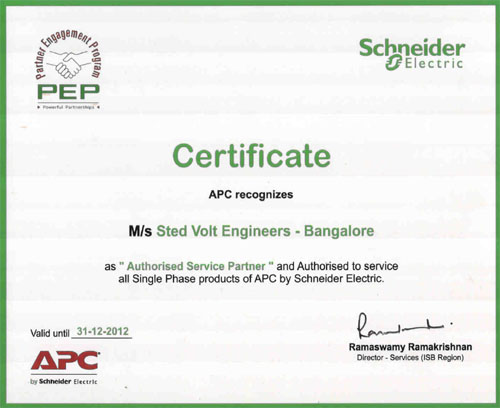 Call on from scrolling numbers or Contact Us for immediate services or queries.